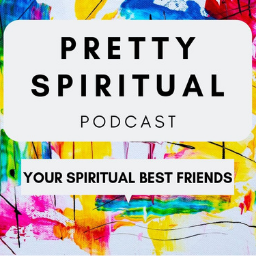 Let Go Of Those Painfully High Expectations
Are you someone who has really high expectations of yourself and others? We can totes relate. But what happens when people don't live up to them? If you're anything like us (and if you're reading this, we're starting to suspect you are), the answer is suffering. That's why this episode is all about noticing and releasing unrealistic ideas about how we think life should be going.
They say that happiness is reality minus expectations. But the truth is that most of us don't even realize we have them until we're experiencing resentment or disappointment when they've gone unrealized. It's not wrong to have expectations. They're a natural part of being human. But how can we engage with our assumptions about how life should be so that we can all suffer a little bit less? 
In episode 31 we look at what it's like to notice and relinquish our unrealistic expectations about ourselves, our relationships, and our lives. Join us as we learn how expectation management can help us soften into the here and now.
Are relationship expectations causing friction with people you love? We know what it's like. That's why we'll share tools that help us let go of our personal agendas so we can open our hearts up to what's right in front of us. We'll let you know how we deal with disappointment and resentment, which are common responses to unmet expectations. Plus, we'll get into the direct physical and emotional experience of what this process feels like in the moment.
Come join the fun! Find us on Instagram, Twitter, Facebook, Insight Timer, Google Play, Spotify, Soundcloud, Podbean, and Stitcher (or our Contact page) and share your feelings, thoughts, and anything else.