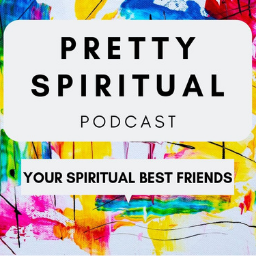 Find Your Spiritual BFFs
This week on Pretty Spiritual Podcast we're talking about lifesaving moments of spiritual friendship and encouragement. Thought we invented the term "spiritual friendies"? We actually borrowed it from the Pali phrase kalyana mitta or spiritual friend. Today, we're lucky to have a strong sense of spiritual community in our lives. But it wasn't always like this.
When first starting out on spiritual paths, each of us experienced loneliness, fear of people, and a deep sense that we didn't belong. We were afraid of emotional intimacy, vulnerability, and letting people get to know the real us. So in episode 34, we're talking about the people who encouraged us to get intimate with ourselves and the ways we try to pay that that loving encouragement forward by showing up as safe friends for others. 
Of course, we've all benefited so much from the examples of love and warmth and friendship we've gotten from each other. But we also know what it's like to feel alone and question whether we belong at all.
Are you struggling to create meaningful spiritual relationships in your life? Does your brain say stuff like "I don't belong in this world"? Wondering how to be vulnerable in your relationships (and maybe also feeling a little grossed out by it at the same time)? Or maybe you're seeking spiritual inspiration but aren't sure where to turn.
We have definitely been there. If you're feeling alone with your humanness or on your spiritual path, we hope our experience can encourage you! That's why we're sharing about the experiences and friendships that helped us trust we belonged to life. We'll talk about what friends said to us in moments where we were down on ourselves and needed help remembering that deep spiritual connection is truly a possibility for all of us. 
Spiritual Friendship Is for Everyone 
Join in as we share our favorite tools for growing spiritual friendships and for showing up as safe friends. No matter where you are and what spiritual path you're on, we love you and we want to be your spiritual friends! And if you're still searching for your spirit posse, you can try things like showing up for events at local spiritual communities, striking up friendly conversations with people who look even more uncomfortable than you, and investing in relationships that feel safe and warm. 
Making friends as a grownup can be really awkward and uncomfortable. It turns out that these feelings are actually… normal? But the best part is this: the only thing you need to implement some simple tools is a willingness to show up and feel weird! So easy, right?
Be gentle with yourself as you experiment with new friendships and growing your spiritual home group. If we continue offering loving acceptance to ourselves, we'll grow in our capacity to offer it to others. We can become the safe and loving friends that the world really needs. No matter where you are on your journey, we're so glad to be on it with you, we think you're doing an amazing job, and we believe in you! 
We're always looking for more tools, so please reach out and  share yours with us. What's helping you with believing in yourself and trusting your inherent goodness? Find us on Instagram, Twitter, Facebook, Insight Timer, Google Play, Spotify, Soundcloud, Podbean, and Stitcher (or our Contact page) and share your feelings, thoughts, and anything else.