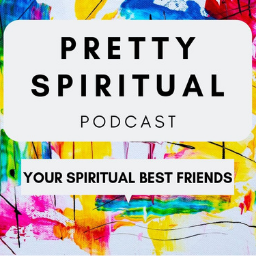 How To Create Healthy Relationships
On a special episode of Pretty Spiritual Podcast, we're talking about spiritual tools in love relationships. It's only in really intimate relationships that we are seen in all our moods and aspects. In other words? There's no hiding the parts of ourselves that we don't like or that we'd rather other people not see. So join the fun as we share the relationship-building tools that help us be our best selves in romantic partnerships.
We've all had our relationship problems. In fact, many of us don't naturally know how to maintain healthy relationships. Yes, we hear that communication in relationships is the number one thing, but so many of us don't even know where to start. Good news, we don't have to do it perfectly.
One place we can start is by asking ourselves what we are looking for in our love relationships? If we're honest, many of us are looking for some magical person who will somehow meet all of our needs. Or maybe we're looking for worthiness or certainty or self-esteem. So many of us have unspoken contracts that we bring into romantic relationships without ever communicating this to our partners. If we don't realize we're even doing this, we'll be left wondering why they're frustrated. So fun for everyone!
Maintaining Healthy Relationships
It turns out that the love relationship we're in is often a mirror for the relationship we have with ourselves. What broken core beliefs are we believing about ourselves? How are we letting these co-create the reality we're experiencing in our relationships?
Want to learn how to make a relationship work? It's time to talk spiritual tools, thank the goddess. We can start by looking at ways to take 100% ownership of our own needs and feelings. If our needs can't be met in our romantic partnership, can we take full responsibility for getting our needs met elsewhere?
It turns out that feeling loved isn't about having a relationship with another person. It's something that's up to each of us to find. What are the vital spiritual connections that sustain us? It's our joyful responsibility to find out!
There are a few other things that help us have reasonable expectations about what being in a love relationship is actually like. We're not always going to have a shared understanding of reality. As it turns out, conflict is really normal and that healthy conflict actually helps our relationships grow. 
All The Tools You Need 
If we're really used to unhealthy relationship dynamics, healthy relationship behaviors can feel really counterintuitive. This is especially true is we're still operating from old or broken beliefs about ourselves and others. A positive relationship requires that we find and work with all those inherited beliefs that caused the dysfunction in the first place.
Where can we find these old core beliefs? We can look at the times we're pulling to be rescued, playing the victim, or playing the martyr. We can look at our habitual relationship defenses, be honest and kind about what we find, and attempt to put down our armoring. And hey, we can always try not to take ourselves so damn seriously!
We can always role-model how we want our partners to treat us by treating them that way. If we feel safe, we can try to soften and be vulnerable instead of armoring ourselves. We are shoulder to shoulder, not toe to toe. And hey, when all else fails, a little gratitude can save the day!
Loving someone can be hard, but spiritual tools make it easier and more rewarding. What are the spiritual tools that you use in your relationships? Please share your experiences and tools with us. Find us on Instagram, Twitter, Facebook, Insight Timer, Google Play, Spotify, Soundcloud, Podbean, and Stitcher (or our Contact page) and share your feelings, thoughts, and anything else! Thanks for listening to our spiritual podcasts. We love ya!